Pricing
Clearly Anywhere is priced at $19.99 per seat per year.
Clearly Anywhere Licenses are linked to a single FreePBX instance. With each license, we provide a product key used to activate your Clearly Anywhere module for FreePBX. Licenses will renew on the 12 Month anniversary of the initial activation. When purchasing additional licenses for a system from which Clearly Anywhere licenses were previously allocated, we prorate the price of additional seats. For example, if you purchase additional seats six months before your renewal, the seat cost for that period will be 50% of the full 12-month price.
Purchase Online
Complete Secure Configuration Form
After purchase, our Order Processing Team will send you a secure form, from which you will provide the IP address or the FQDN (Fully Qualified Domain Name) of your FreePBX Installation, and other relevant information to get your license setup on our system(s). No
te:
Orders are processed by our order desk during Business Hours of Monday thru Friday 8AM to 6PM Central time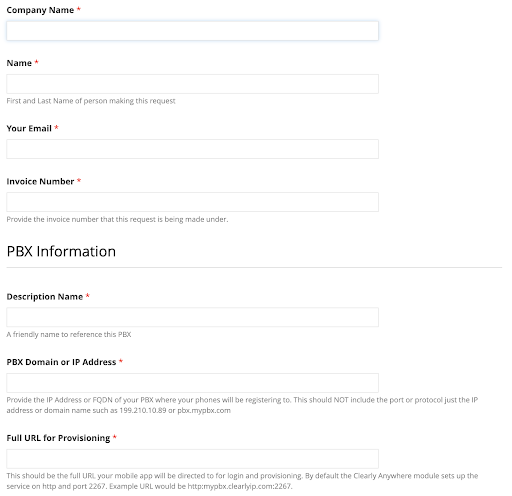 Configure your Cleary Anywhere Module for FreePBX
Once your license is created our onboarding team will send you a configuration email with your licensed product key/keycode, as well as instructions for installation and configuration. The key will be used to configure your Clearly Anywhere Module for FreePBX.